Okay, since I keep talking enough that the phone post has cut me off twice, let me finish this and post the pics.



Anyway, she turns to me and says 'Hello' and I say 'She finally got me here." We got interrupted by another gentleman for a minute who was wondering what one if the movie stills she had sitting there (It was one from Amityville) was. She answered and they finished up his autograph. Once that was done, I looked around the table for something else she could sign. Several stills from three of the four Superman films, two from Sisters, a couple of promo shots of her (one of which was the Lois on a Stool pic, Laurel), but there was one that I didn't recognize. I asked and she told me that it was from an old show called Nichols (this is a Western show she did in the early 70s with James Gardner. Betcha you didn't know that!). I surprised her by knowing what show she was talking about. I told her that I was seriously regretting the fact that I didn't bring any stills or copies of any photos from Gaily Gaily for her to sign. She had been very nice and professional up until that point, but when I mentioned having seen her first 'known' film, I think that was when she really saw me. Laurel, if you could have seen the look on her face. She was amazed by that fact that I knew the film, let alone had seen it. We talked for several minutes about how she had over 64 films to her name and I mentioned that it was a damn shame that more people didn't know about her work.

At this point, a little girl she'd been talking to just before I got there came back over to get the autograph that she had written her. Margot asked if I minded and I said absolutely not. The little girl had to be five or six, dressed up in a Supergirl suit complete with cape, and those eyes were so bright when she came back over to Margot. The way the little girl (whose name was Grace, BTW) approached her made it all too clear that she was sure that she was talking to Lois Lane herself, Superman's girlfriend and star reporter. Margot handed her her picture, gestured her closer, and whispered something in the child's ear that made her grin. Then told her that the autograph was a present for being such a voracious reader and that she had to promise to keep reading, because she could even grow up to be the President of the United States if she did. My friends, if I didn't adore this fiesty little woman before, I did after seeing the way that little Grace reacted to her. It was like watching myself years ago. And when she turned back to me, I asked her to please keep inspiring the next generation because we need more people like her in this world. She seemed touched. We talked on for several minutes before another fan came up and we broke off the conversation then, knowing she was busy and asked her to sign two more stills for us, the Nichols for me, and for Anissa, a promo shot of her standing in the old Planet Lobby from STM and reading a copy of the paper. And then Anissa asked if we could have a picture.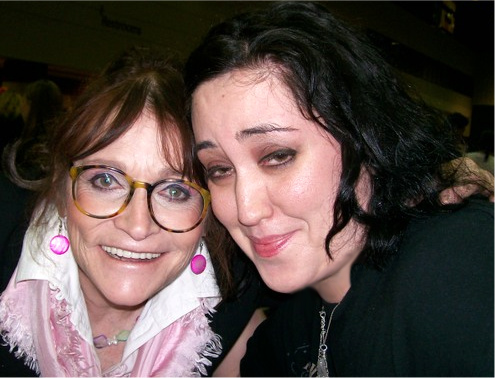 (World's Most Unflattering Pic of Me Because of the Angle (I'm not really *that* big)And Trying Not To Cry, but she looks adorable!)

When I went to hug her for the shot, I realized once and for all just how tiny she is. I mean, really tiny. She is sooo small-framed just a little short that it's so easy to see how Chris towered over her. When Anissa shot the picture, I said quietly to her, "Thank you so much. For everything." We said our goodbyes and started to go when I turned back to her with what had to be the most grateful smile, waved, and for some reason, blew her a kiss. And you know what? She blew it right back without hesistation. We got about five feet away when I started to sniffle and I got reassured by Alley, Karis, and Anissa all three for having done it. Especially since they had been watching her for a while while we were there and they didn't see her spend that amount of time with anyone else. She had liked me, she had actually 'seen' me, which I didn't see her do with anyone else that came up while we were there other than Grace. And that truly means more to me than she'll ever know. My little inner six-year-old spent the rest of the day walking on air. I still am, I think. And then I saw the way she signed the autographs, which I didn't see her word this way on any other: the one on the sketch reads 'To Lois, Love Lois', the other 'To Lois, Love Margot'. I refuse to read too much into it, but my other says 'To Lois, From Lois'.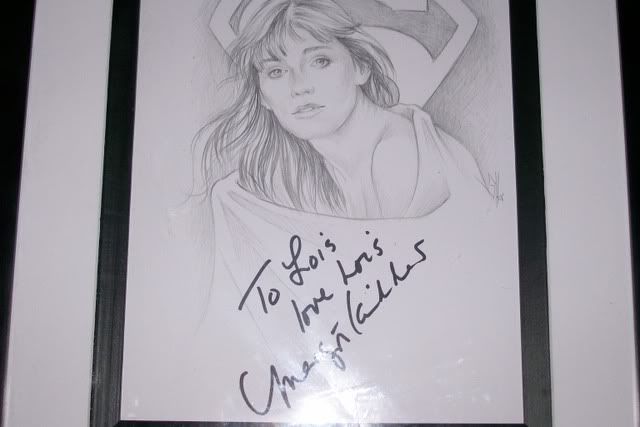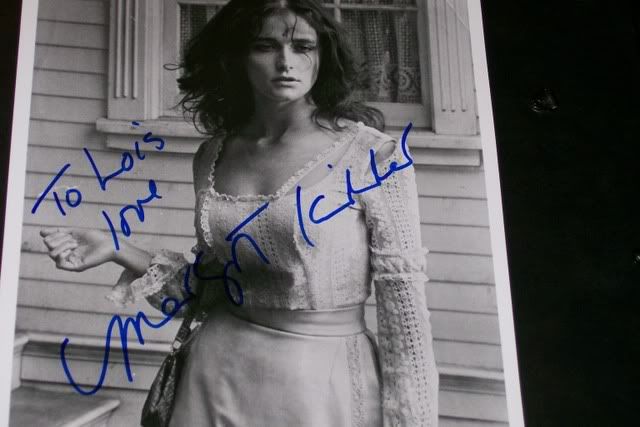 I doubt this is the case, but I hope that something about that ten minutes stays with her and that she'll remember that age doesn't mean anything and that she is still very loved by the community. She knows that we are out there and I passed on everyone's love for her and Lois Lane herself. I never had the chance to bring up LS without being heavy-handed, although I would have loved to hear what she would think of it. I also never got the chance to ask her favorite movie, Laurel. :( I would have, but I didn't know how much time I would have with her). Needless to say, this day will stay with me for a very long time and makes me all the more determined to make Heirs all that it can be.

Margot, I know you're not reading this, but thank you making a girl believe that she can soar beyond expectations. And thank you for unknowingly granting a wish. I'll never forget this day as long as I live.